Jersey by Bike
Jersey is a great place for cycling; on the road, on dedicated cycle paths, signposted cycle routes, mountain biking, on a BMX, touring, with a cycling or triathlon club, racing, commuting, cycling to school and generally getting about by bike soaking up the beautiful views either on the coast, at a park, on a cycle path or on the country lanes.
---
Why cycle?
"For those in the know, it's a no-brainer that cycling is good for you and good for the planet"
British Cycling Wise Words: Cycling and Health
Ten Years Younger – Studies have shown that regular cyclists enjoy the general health of someone approximately 10 years younger
Low Impact – Cycling is a low impact exercise – kinder on your joints than running and other high impact aerobic activities
No Stress – Many cyclists report that cycling regularly reduces their perceived levels of stress and promotes relaxation
Tune In – In cycling, levels of exertion can be much more finely tuned than any other form of exercise. Using speed, wind resistance, gearing, gradient or 'hyper gravity training' (i.e. carrying extra weight), you can tailor your level of exertion to suit your current fitness level or goals. Try doing that with running!
All Body Exercise – Mountain Biking or 'out of the saddle' riding (e.g. climbing) is an excellent full body exercise. When mountain bikgin, you're constantly shifting your weight, sometimes carrying your bike, working your arms, chest, abs and improving your core stability.
Balance – Regular cycling improves balance and co-ordination
Are you an employer? Studies have shown that those who cycle to work suffer less absenteeism than non-cycling employees ? workers arrive fresh, relaxed and motivated
An Exercise for Every Body – Cycling has possibly the broadest appeal of all forms of exercise, From toddler to pensioner, able bodied or disabled, practically everyone can enjoy the health benefits of cycling with the right equipment.
Calories – Brisk cycling burns around 500 calories per hour, helping to control weight.
Get Fit, Get to Work – Cycling is one of the easiest ways to fit exercise into your daily routine because it doubles as transport.
Just 3 Times a Week – If you aim to cycle consistently twice during the week (either on road or spinning), and do a longer ride at the weekend you will soon achieve great cardiovascular fitness and toned legs
Vary your pace on short rides – On your shorter rides or commutes you aim to vary your pace a bit. Warm up for around ten minutes, and then try working every hill and relaxing on the down hills, or working 5 minutes hard, 5 minutes easy for around half an hour. Make sure you cool down and stretch afterwards.
Longer rides? Go Steady – Your weekend rides should be longer and steady paced. Just enjoy being out on your bike and persuade a friend or partner to go with you. Maybe cycle out to a nice cafe and back, aiming to ride for a couple of hours. After around 90 minutes of unbroken steady cycling you will start to burn fat, but you will also need to think about using an energy drink or consuming low fat snacks if you are cycling for that length of time. Also invest in some padded cycling shorts!
---
An Island of Cycling Opportunities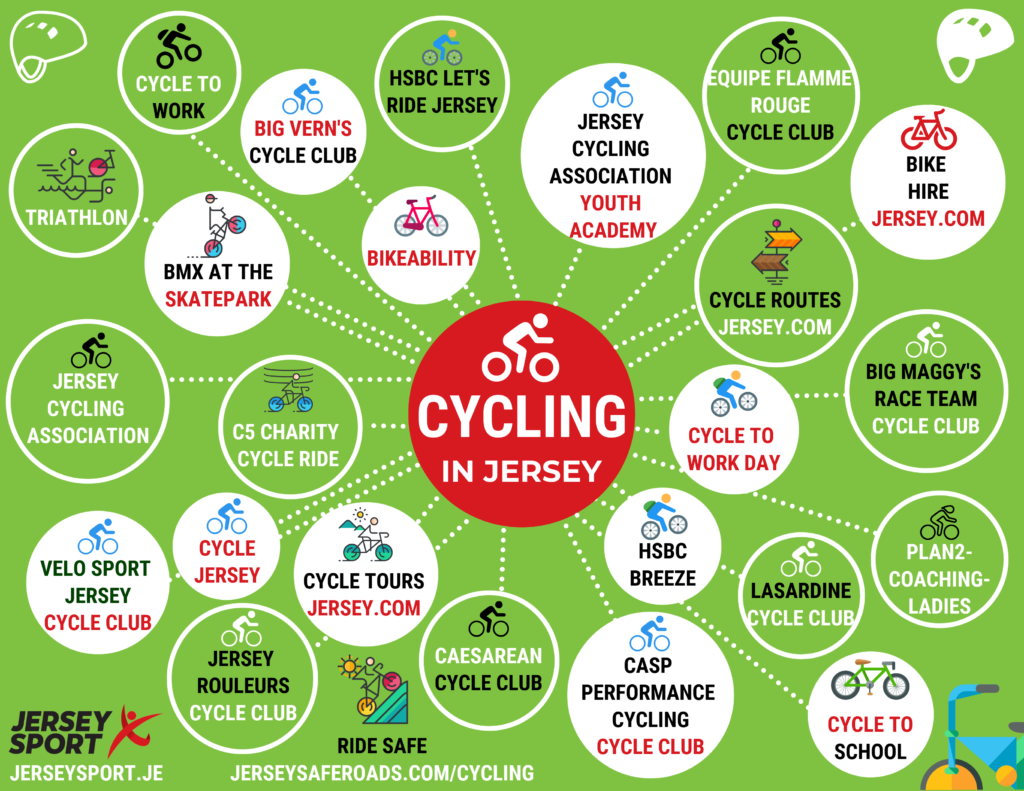 ---
Cycle Routes
Explore the Jersey coast, countryside and visit things to see and do on the network of signposted cycle routes. Each route is graded from easy to difficult with a note of refreshment stops, toilet stops, length, approximate time and number of hills.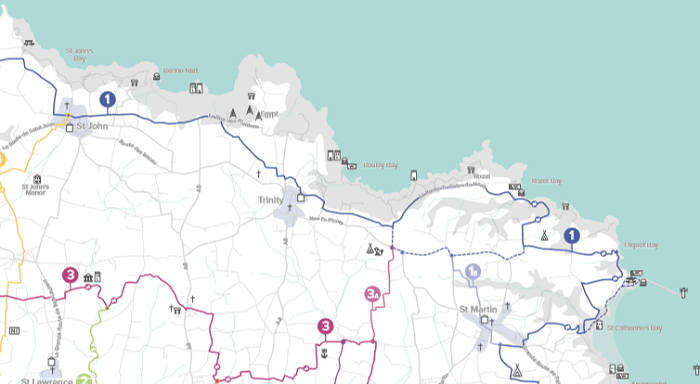 For experienced riders, Visit Jersey have created eight advanced cycle routes to get your blood pumping. Cycling solo or with a team, all of the advanced routes can be linked up depending on how far you want to go. Handy pit stops have been included, and marked difficulty and gradients features to you can be sure the ride matches your skill level. Score out each route by watching an aerial video on the Relive App.
A few rides designed to discover some of Jersey's great food experiences.
---
Commuting
Exercise as part of your daily routine can be made easy by cycling to work, using the bike as a form of transport. The low-impact exercise can save you money, get you fit and help the environment in addition to the physical and mental health benefits.
If you are interested in commuting to work by bike, check out the helpful and informative videos on British Cycling's website: Commuting videos
The Basics of commuting by bike:
Correct road positioning:
---
Women's Cycling
These are the initiatives to help introduce women to cycling in Jersey:
HSBC Breeze – inspiring women to ride for fun and fitness – free bike rides, friendly support and great people to ride with – [coming to Jersey soon – watch this space] – for information please contact Jersey Sport
Plan2Coaching – a cycling group to encourage and support women who want to cycle for fitness with social interaction
---
Cycling Clubs
Whether you're looking to enjoy the social side of cycling, or want to become the island's next Kim Ashton, there are plenty of clubs in Jersey to choose from:
The above clubs and organisations are shown on this page because they have added themselves to the Jersey Sport directory. To add your organisation please CLICK HERE. For a full list of island groups see the green infographic higher up this page.
How to ride in a group:

---
Triathlon Clubs
---
Events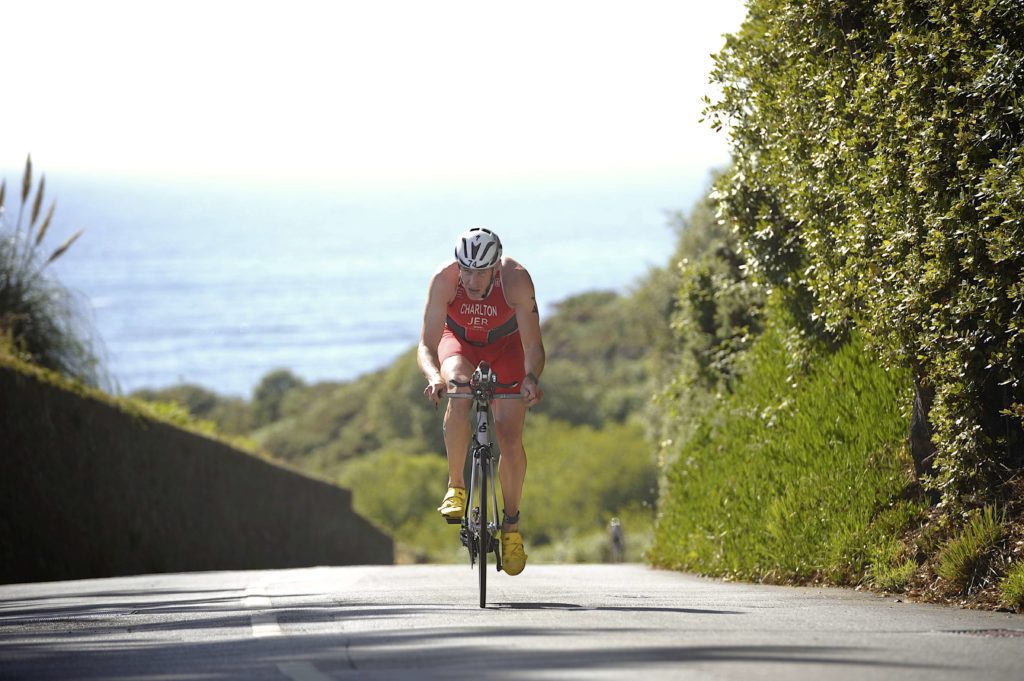 ---
BMX Facilities
If you are interested in BMX, these are some of the facilities to ride in Jersey:
St. Helier Skatepark
St. John's Recreation Ground Skatepark
Les Creux Millennium Country Park Pump Track
---
Cycle Tours
"A cycle tour is the perfect way to explore our unique island.  Discover hidden secrets along some of our island's beautiful country lanes or coastal routes, as well as Jersey's iconic heritage sites."
Learn more: Cycle Tours in Jersey
---
Disability and Para Cycling
Section coming soon!
---
Get the gear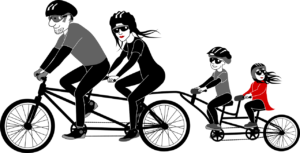 There are lots of places to get access to bikes and any accessories you may want in Jersey, new and second hand, from hire shops, cycle shops, electrical shops (for electric bikes), charities that refurbish and sell-on, online, auction, local online market places and local papers. It doesn't need to be an expensive exercise.
Helmets
It's important to ensure helmets fit properly. British Cycling's advice for buying and fitting a helmet
British Cycling's Helmet Policy
---
Information and Advice
If you have a question about cycling, British Cycling may have the information available for you, just a click or two away…
British Cycling tips and advice to get more from your bike, including British Cycling Ride Smart videos
---
Ride Safe
Keep yourself and others safe and remember you are representing cyclists in Jersey while on your bike.
---
Key Contacts
Jersey Cycling Association, for questions and information about racing (road and mountain bikes)
Jersey Skateparks Association, for questions and information about BMX
Jersey Sport, for general cycling information
---
Work in Cycling
Cycling offers opportunities for volunteering and paid roles.
Build your volunteering experience:
Jersey Sport Youth Panel – An opportunity for young people aged 14-25 to advise, inform, influence and support the Jersey Sport staff and Board.Volunteering experience that will look great on a CV, develop skills and benefit from mentoring and training. If you're interested in joining please click the link!
Young Leaders course – Learn the skills to become a good sports leader in this annual course run by Jersey Sport.
British Cycling ride leader, coaching and event official courses
Volunteer for your local club or association committee. To find out more contact your local club
Events require many volunteers including marshals and time-keepers – to find out more please contact the Jersey Cycling Association
Breeze Champions – ladies qualified as British Cycling Ride Leaders to lead HSBC Breeze rides – free bike rides for women. For more information contact Jersey Sport
---
Happy riding…