Jersey Sport was formed as the independent body for the development of sport and active living in Jersey, in June 2017 – as an arms-length organisation supported by the Government of Jersey. We are also a registered charity. Our principal activity is to advocate for sport and physical activity by promoting and developing opportunities for islanders to play sport and adopt active lifestyles.
OUR MISSION IS TO INSPIRE, LEAD AND ENABLE POSITIVE WELLBEING FOR ALL THROUGH LIFELONG ENGAGEMENT WITH SPORT AND PHYSICAL ACTIVITY
In April 2023, we were delighted to welcome Jersey's Lieutenant-Governor, Vice Admiral Jeremy Kyd CBE, as our Patron.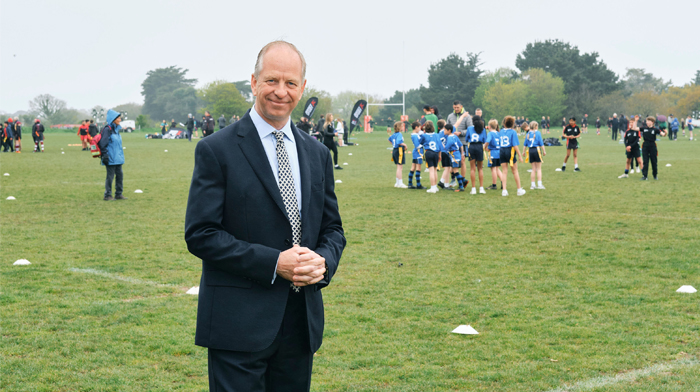 "As a keen sportsman, with a particular love for boxing, I am delighted to support the work of Jersey Sport and become their new Patron. Increasing participation in sport and physical activity is not only vital to increase the physical health of islanders, but important for their mental health too. I hope by working together we can reduce the inequalities which are apparent amongst some sports and physical activity opportunities in Jersey and focus on building an inclusive local sporting community."
JERSEY SPORT
Our remit is focused upon the delivery of the following four primary purposes within the island:
1. Increase participation in sport and physical activity
2. Reduce inequalities in sport and physical activity – namely for women and girls, lower socio-economic communities, and those with one or more disabilities
3. Focus on inactive islanders
4. Build a safe, sustainable, and inclusive sporting community
JERSEY SPORT STRATEGIC PLAN 2023 – 2026
JERSEY SPORT 2023 BUSINESS PLAN
MOVE MORE JERSEY
Move More Jersey, created by Jersey Sport in May 2019, is a key strategic theme in the Inspiring an Active Jersey Strategy to improve mental and physical health.
Improving mental and physical health through physical activity is a key priority for the Government of Jersey, and so Move More Jersey aims to encourage more islanders to be more active, more often.
Amongst our various programmes, we offer a 12-week Move More Referral exercise programme for islanders aged years old 16 or over, designed for people with, or at risk of, certain medical conditions or pre/post surgery which is led by specially-trained fitness instructors.