The Jersey Triathlon Club is amongst the first formed in the UK (1985). We select a varied programme of races, including aquathlon, duathlon and triathlon covering a multitude of distances for our club race calendar, culminating in the club's main event, the Jersey Olympic Distance Triathlon.
New members are always welcome from novices to more seasoned triathletes. The best way to get started is to contact the club at info@jerseytriclub.com.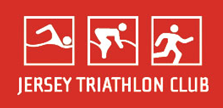 ---
Address
www.jerseytriclub.com
Jersey Sport is not responsible for the business and activities of clubs and associations listed in this directory.
We recommend you check the group's safeguarding and health & safety policies prior to attending events and activities.