For many people, sport is a huge part of their life from childhood, through university and into adult life. But for many others it's something that is enjoyed as a youngster but then slowly gets pushed from life in favour of socialising, career progression or family commitments.
We'd like to introduce Jess, who talks about her evolution from active child to stressed out grown-up, with a desire for lifestyle change – and now with a passion for ladies' football!
Jess Perchard was a typical active child who enjoyed playing team sports such as netball within the school environment, but who never had the opportunity to progress outside of school to competition level.
"Back then, even though I'm only 30, there simply weren't the opportunities there are today. No one came round to promote sports like football for girls. Which is a shame, as I naturally had a lot of discipline and a love of intense exercise. I think I could have been a great athlete!"
Jess's parents were great role models for healthy living, with a father who loved the outdoors and offered Jess and her brother the same physical opportunities, and a mother who valued mental well-being. With this supportive upbringing, Jess easily figured out for herself that exercise – and running in particular – helped her to feel better physically and emotionally, especially through the teenage years of hormone imbalance and mood swings. She realised that being active helped her to perform at a better level academically and made her a more happy, balanced person.
Fast forward to university,  and Jess found herself joining a university football team, introduced through friends. After initially just joining for fun, she soon discovered a motivating sense of camaraderie and belonging, as well as reigniting her passion for intense exercise.
"I've always loved intense exercise; running around and getting sweaty – having fun with no pretence to look good!"
Back in Jersey a few years later, Jess found herself stuck in a place where she felt mentally and physically stressed out and knew she needed a lifestyle change. It was at this point a friend suggested she come along to Grouville ladies' football team. She had previously tried joining a gym, but really felt like she wanted to be part of a team and to play a sport again.
"I didn't know what sport to choose, I just knew I loved the team dynamic. I was a bit intimidated about joining a ladies' netball team; to me it carried the stigma of having to be at a certain level of ability. I felt like ladies' football was a bit more relaxed.
Grouville ladies' football team was beginner-friendly and really welcoming. They were really happy to have me and it's been great to see the numbers rise since I joined just two years ago. Numbers are always going to be difficult in ladies' football until we change the stereotype and encourage more girls in at a younger level."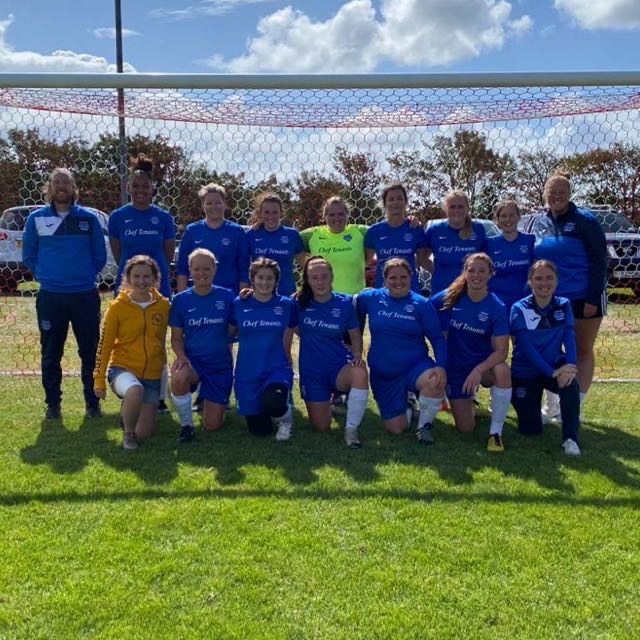 Playing football makes Jess feel amazing! She believes it's so important for physical and mental well-being and really misses it when she can't play.
In addition to the physical health and emotional benefits, being part of a football team has changed Jess's life. It's given her routine and structure, and she loves being depended on as part of a team. She says that playing football in Jersey is a really fun environment and being part of a team sport is great for the social aspect too.
"If you're looking for a brilliant hobby to take up, try ladies' football!"
Before joining Grouville ladies', Jess admits she was way more stressed out generally and much less healthy – especially as the early Sunday morning games have stopped her late Saturday nights too!
The team is currently made up of women aged between 20 and 50 years old, including many with young children. Most team members manage to balance family commitments with one or two training sessions per week, with matches held on Sunday mornings.
We asked Jess what a more active Jersey would look like to her?
"We need to resource sports for women in the same way as for men. We should be encouraging people to get to events and watch local sport too – it's a great day out! I would love to see equal funding and resources.
We shouldn't still be trying to find a home for netball!  The England captain has come through our island, so it's ridiculous we haven't sorted that out yet.
I would love schools to push football for girls as well. And we need to highlight the benefits of playing football for adult women too."
Jess also wanted to share her thoughts about the importance of diversity and inclusion across all sports in the island as well as in ladies' football.
"It's time to move forward and simply start enjoying the highs of intense exercise and the camaraderie of team sports!"
GET INVOLVED
If you're reading this and would love to start playing ladies' football, here's Jess's advice:
"I was introduced to the sport each time through a friend (or a friend of a friend!), so initially I'd say ask around in your workplace or friendship groups and tag along with someone you know. Alternatively, contact any of the clubs directly (maybe through social media or with a quick phone call) and I'm sure you'll be welcomed with enthusiasm! You could also try the Jersey Football Association."
Here are some useful links, to help get you started:
GROUVILLE LADIES' FOOTBALL TEAM