Name: Elliot Powell
Age: 22
Length of time worked at Jersey Sport: 3 years
What position do you currently hold at Jersey Sport: Children and Schools Manager
What does your job involve? 
Overseeing all aspects of children's delivery and managing the design, implementation and coordination of new projects, programmes and initiatives that are targeted to helping us get more young people, more active, more often – in line with our Inspiring an Active Jersey strategy.
What made you want to follow a career in sport and physical activity?
The ability to coach people and make a difference is something that I have always been interested in – getting paid to do it was an even better bonus!
What do you enjoy about your job? What aspects of your job really excite you or give you the most satisfaction?
I love seeing a child improving their skills.
What specific experience or qualifications do you need to do your job?
Practical coaching experience and qualifications
Knowledge of Government of Jersey structure and educational system
Knowledge and understanding of physical education and recreational sport
Did you study a degree at university? If yes, what subject did you study and why?
Sports Coaching at Liverpool John Moores (1st Class Degree). I chose that degree because it sounded like a good mix of practical and theory work, with coursework-based assessments which suited my skillset better.
What sports or physical activity do you take part in regularly? 
Football and cricket.
Why do you think that it's important for children and young people to try sports at a young age and be regularly active? 
If you can develop your confidence quickly, which is more likely at a young age, then you will more likely participate in the activity for a longer period of time. The benefits of being involved in sport are far more than simply physical. The main reason I enjoy sport is for the social aspect and the opportunity to challenge myself regularly.
If someone reading this is considering a career (or career change) in sport, what advice would you give them?
Go for it! Get involved in any kind of administrative, coaching or officiating role as soon as you can if being an elite performer isn't for you!
Why do you do the job you do?
It's enjoyable working in an industry you love and coming in every day with the opportunity to make a difference.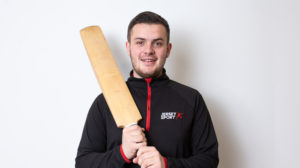 Just for fun
Have you ever competed in sport at a high level?
I've competed in the BUCS North West Cricket 1st Division.
What sports accolades do you have? 
Jersey Cricket Domestic Team of the Year 2019.
Who is your sporting hero and why? 
Andrew Flintoff – He played with a smile on his face, loved the big occasion, and loved celebrating the big occasion even more.