Ali is an active committee member for the Jersey Softball Association (JSA), and has truly made a difference to the sport in the island over the last 25+ years. Born into a sport-loving family in Australia – a country that has sport and physical activity woven into its culture – Ali excelled in softball, netball, swimming and athletics throughout her childhood. "In school, it was always expected that you would participate in sport. I just wanted to play sport all the time and not be in a classroom!"
As a young woman, Ali followed her parents' roots back to the UK to see extended family and decided to stay and work in England. A new friendship brought about the opportunity to travel to Jersey for a holiday in the 1970s, and while she was here, locals encouraged Ali and her friend to return in the summer, telling them stories of how fantastic the island was in the tourist season. While her friend decided not to return to Jersey, the next summer Ali arrived and decided to make it her home, eventually meeting her future husband and starting a family.
When Ali worked in the corporate world in the 1990s, a colleague who was part of a JSA softball team was looking for someone to join as they needed extra players to complete their team, Ali immediately jumped at the chance to step in and thoroughly enjoyed being back in the game in her forties. "I met so many new people and played multiple positions at that time. It was something fun to do on a Sunday and we all got on so well."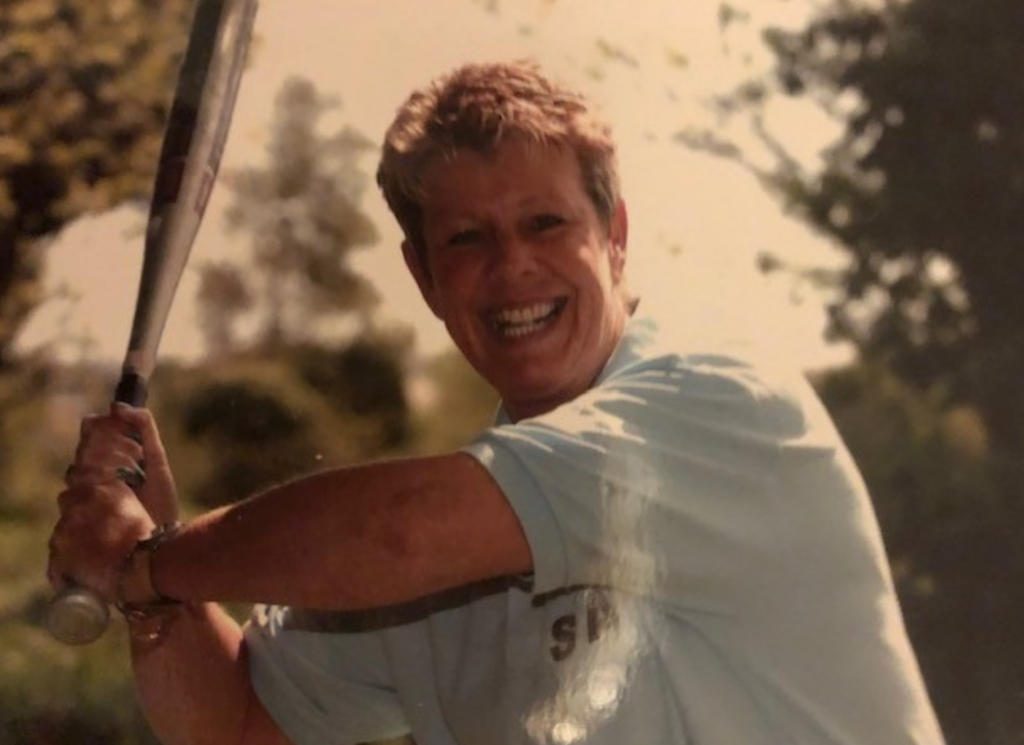 With so much experience, passion and enthusiasm for the game, Ali progressed naturally into coaching and, together with the then head coach Graeme Ferguson and others, they coached the Jersey team for the first Inter-Insular against Guernsey and won. In 2012, Ali was invited to coach the newly formed Aztec corporate softball team and led them to Corporate League victory in 2012, 2013 and 2014 – "that's my claim to fame!"
In Jersey, the leagues are mixed and play the 'slow-pitch' version of softball, making it a great opportunity for newbies to get involved. "In my view as an ex-coach, I love coaching complete beginners as it's great to have people who have never thrown a softball, never held a bat or a glove before as they don't have any bad habits to break! This makes it easy to teach them the technicalities and mechanics of the game, learn how to stand, how to throw the ball, how to bat and how to run around the bases. Plus, you don't need a great level of fitness to run around the bases although of course it does help."
Unlike other sports that have an early retirement age, softball can be played at any age. "The oldest (female) softball player in the world I believe is currently 91!" Playing softball in Jersey is a great option for people of all nationalities and a brilliant way to make new friends and be more active. "We have players from all around the world, including: Portugal, Poland, Australia, South Africa, Canada, USA, Ireland, Scotland, England and, of course, Jersey! Within the leagues there's even more diversity based on their own culture."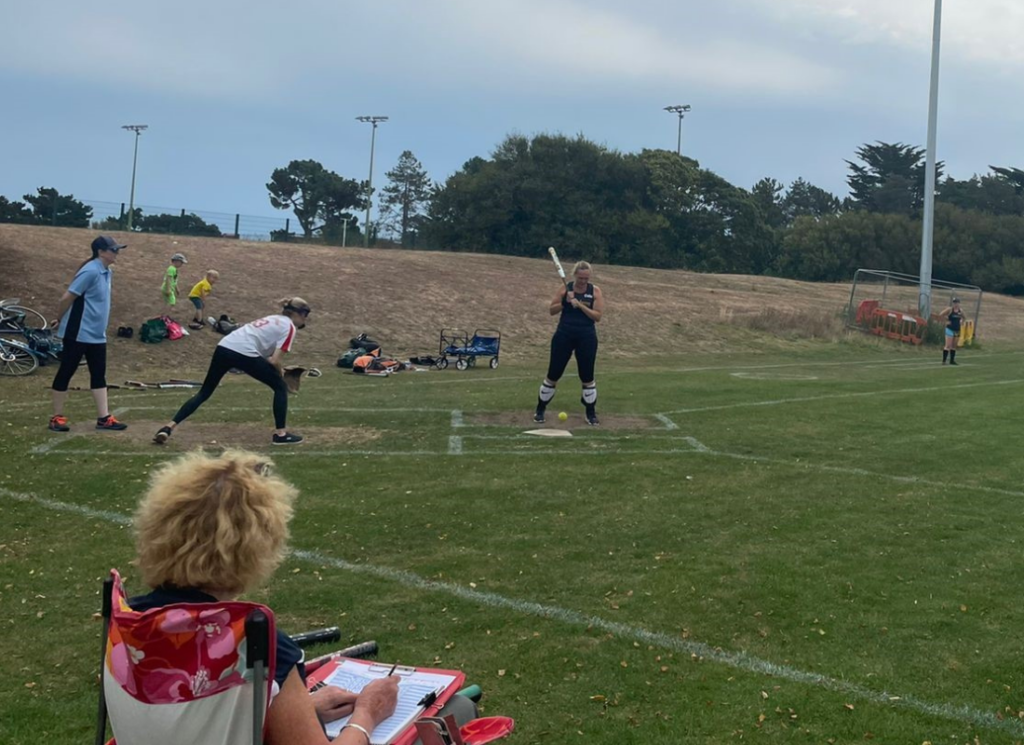 For anyone wanting to give softball a try, you can get involved by emailing Jersey Softball Association – president@jerseysoftball.com. If your work company is involved with the corporate league you could try the sport by signing up to participate through your works softball team, with some organisations covering the cost of entry fees, and the JSA providing all kit and equipment. You can also get involved as a volunteer or a spectator. The summer outdoor league takes place at Les Quennevais on Sundays from early May, and the corporate league begins later in June on Wednesday evenings. In winter, the Jersey Softball Association play an indoor version of softball in St George's School hall, also on Sundays. "Everyone is welcome to come along and watch, ask questions or get involved!"
The Jersey Softball Association hopes to set up a Youth League as they have found lots of talented and keen youngsters in their outreach programmes. Currently, young people can play in the adult league from age 14 (with parental/guardian consent, a helmet and, ideally, a parent/guardian present), though most are at least 16. Having a new youth league would be a fantastic opportunity for Jersey as it would create new talent pathways for children to progress in the sport and go on to play within national and international tournaments in adult leagues.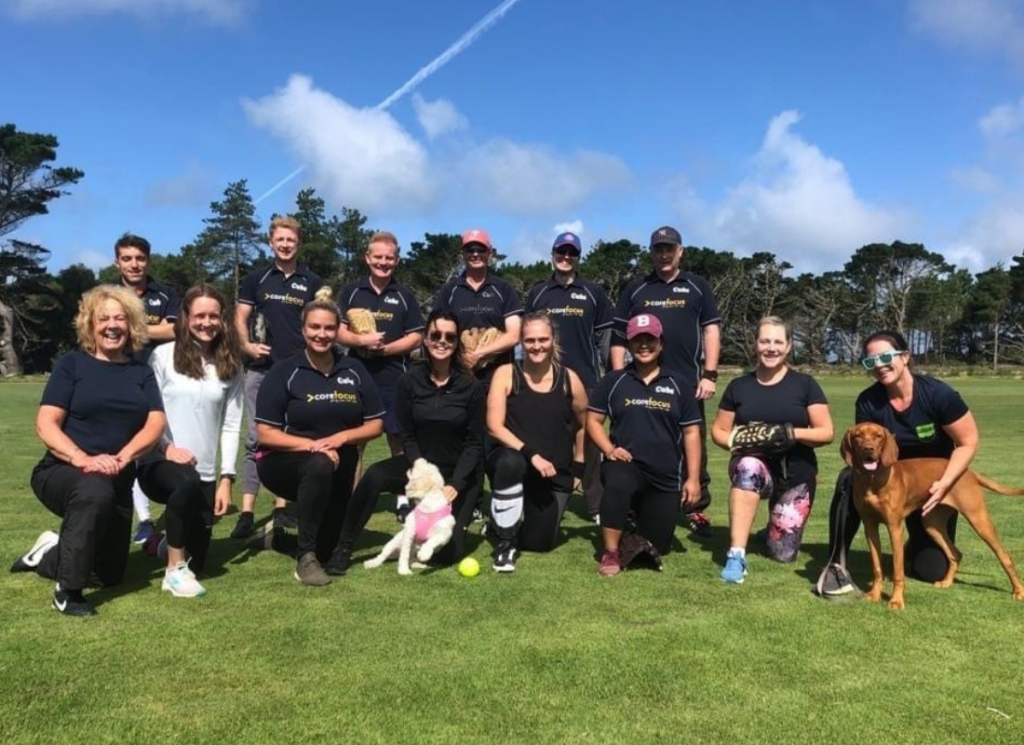 2023 marks the 30th anniversary of softball in Jersey and Ali is looking forward to the tournament at Les Quennevais. "We're encouraging teams from the UK, Ireland and Guernsey to come over and play in the tournament which will also include some of our own Jersey teams.  At the end of the season there will be a big 30th Anniversary celebration! After that, I'll be "hanging up my glove" but will no doubt remain as a scorer for the team I am currently part of."
Spectators are really important to team games in Jersey as they create a vibrant energy that encourages and motivates the players. Ali says "Please do come along to watch the  tournaments as it helps to create an amazing atmosphere!"
GET INVOLVED
Here are some useful links, to help get you started with local softball:
MORE INFORMATION ABOUT JERSEY SOFTBALL
Email Jersey Softball – president@jerseysoftball.com