Lola Jones is a happy, effervescent 'firecracker' whose passion for karate gained her a place in the European Kenpo Karate championships just a few months after taking up the sport in 2021. At the championships Lola won a gold medal for her outstanding individual routine; an amazing feat given that she was the youngest member of the club at the time.
In June 2022, Lola travelled with her mum and a group of students from the Jersey Kenpo Karate club to Malta for the 2022 European Kenpo Karate championships where Lola maintained her status as the Under 8 European Gold Medallist. In addition, Lola won 3 Bronze medals in Individual Self Defence, Team Sparring and Team Form. Her natural ability, excellent skills and bubbly personality also got her noticed by Team GB who wanted to poach her!
You never know what you can achieve until you try…
One day in spring 2021, Lola walked into the lounge as her parents were watching 'Cobra Kai', a Netflix martial arts comedy series, and promptly said 'that looks like fun!'. Lola's mum, Belinda, offered Lola the chance to try karate and she took to it instantly! Lola says she was scared before the first lesson but once she'd tried it, she came out feeling happy, confident and excited to go back for her second session.
Belinda believes that it's important to offer your children as many opportunities as possible when it comes to sports, physical activity, hobbies and passions and has always been fully supportive of Lola's dreams. Karate is open to anyone of any age and is especially beneficial to children with anxiety, autism or ADHD due to the combination of focus and physical activity.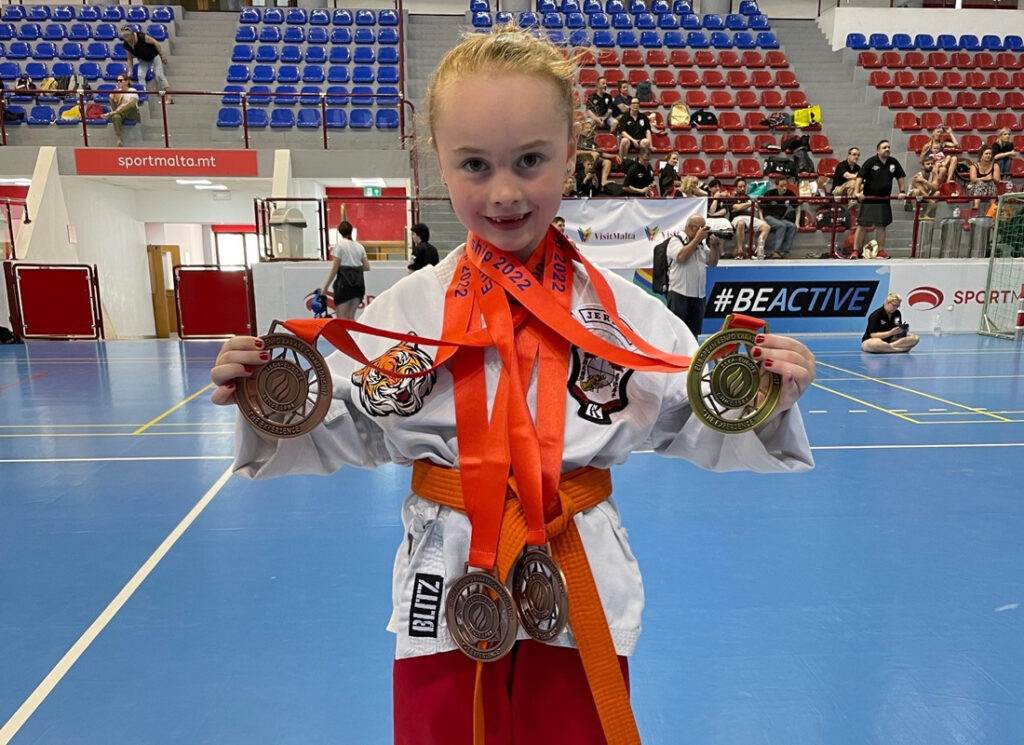 Discipline, focus, respect and competition
Kenpo Karate has developed over hundreds of years and has its roots in both Chinese and Japanese martial arts. There are many different styles and forms of Kenpo, but their common thread is the discipline and focus required during practice and the respect given to all students as well as the philosophy of not harming or injuring another human.
Jersey Kenpo Karate is run by Coach Roy MacDonald, a highly talented black belt who first started Kenpo in 1970 in Ireland and later trained in the USA before coming to Jersey and hosting the club's first tournament in 1982.
Lola says: "I love karate because I get to see my friends!"
Lola loves karate lessons because they help her to feel happy, confident and strong. And, most importantly to a 6-year-old, she gets to see her friends twice a week and enjoys practicing the sport together. The great thing about karate is that classes are mixed age groups, so everyone has the chance to make friends with people outside of their usual school circles and learn vital life skills like communication, respect and healthy competition. In between her sessions, Lola loves to practice karate on her dad and is hoping to start gymnastics soon so that she can "learn to do cartwheels!".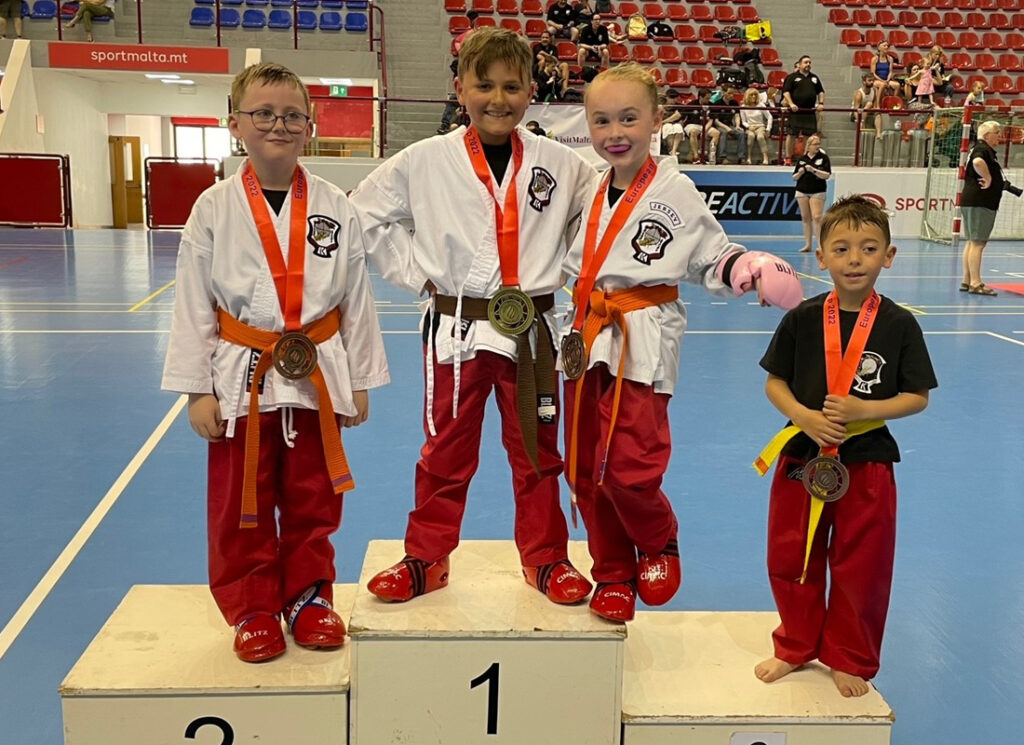 Playing sport supports all aspects of physical and mental health and development
With only 19% of children in Jersey reaching the World Health Organisation's guidelines for weekly physical activity, it's important that Jersey prioritises sport, physical activity, open spaces and active travel for everyone. After all, it's usually parents, teachers and friends that act as role models and encourage children to step out of their comfort zone and try new things.
Lola's mum Belinda admits to having a competitive streak herself which she channelled into netball and football as a teenager and young woman, playing for St Lawrence ladies', while her husband also plays football as a reserve for a local team. While she may not play competitive sport right now, Belinda understands the value of sport and activity as part of her children's growth and is excited to see where Lola's karate journey takes her. Lola says that one day she'd like to "be a Black Belt and go to the Olympics".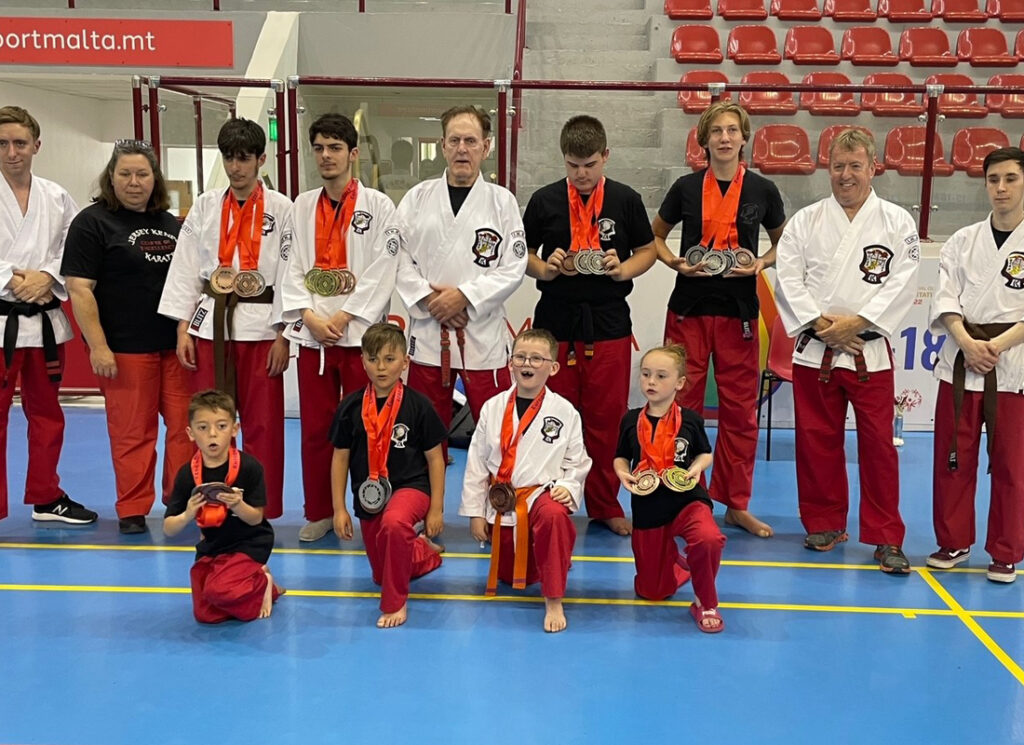 Off-island travel and competitions
The off-island travel for karate can become expensive. This is where fundraising within the club helps, as well as funding through Government schemes delivered by Jersey Sport. It's essential that our island's future athletes of all ages get to experience competitions and tournaments outside of Jersey in order to develop their skills, grow their confidence and progress to higher levels. Representing Jersey abroad as an athlete is an honour and a privilege, and it would be a shame to rob clubs and individuals of these opportunities simply due to a lack of funding or low income.
GET INVOLVED
Here are some useful links, to help get you started with local Karate Clubs: