We invite you to join us for An Evening with Jersey Sport on Wednesday 7 June 2023, in the theatre at Haute Vallee School, from 17:30 – 20:00.
The evening will be an opportunity to hear from our retiring Chairman Phil Austin MBE about the work of Jersey Sport, with a review of our Annual Report, Strategic Plans and the chance to learn more about our physical activity pilot scheme run at Haute Vallee School. The event will finish with the opportunity to catch up and network with friends and colleagues over refreshments.
Join us to find out more about the work of Jersey Sport in the island as we continue our mission to inspire, lead and enable positive wellbeing for all through lifelong engagement with sport and physical activity in Jersey.
Itinerary
17:30     Arrival and refreshments
17:55      Please take your seats
18:00     Phil Austin MBE, Welcome and reflections on seven years as Chairman of Jersey Sport
18:15      Video message from Deputy Lucy Stephenson, Assistant Minister for Sport
18:20     Jersey Sport 2022 Annual Report – Catriona McAllister, CEO
18:35     Sport Audit Results and Physical Activity Insight – Clare Stott, Head of Sport and Insight
19:00     Haute Vallee Active School Project – Stuart Hughes, Head Teacher, Pete Rutherfurd, Active School Co-ordinator, Mick McQue, Physical Activity Support Mentor
19:20     Closing remarks – Phil Austin MBE, Chairman
19:25     Networking and refreshments in the cafe
20:00     Event close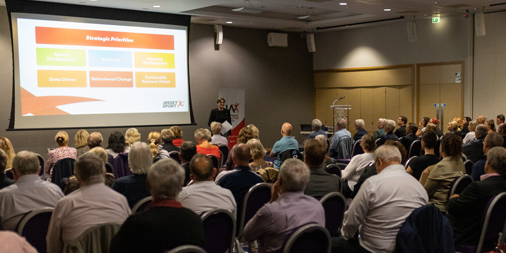 Jersey Sport was formed as the independent body for the development of sport and active living in Jersey, in June 2017 – as an arms-length organisation supported by the Government of Jersey. We are also a registered charity. Our principal activity is to advocate for sport and physical activity by promoting and developing opportunities for islanders to play sport and adopt active lifestyles.
Our remit is focused upon the delivery of the following four primary purposes within the island:
1. Increase participation in sport and physical activity
2. Reduce inequalities in sport and physical activity – namely for women and girls, lower socio-economic communities, and those with one or more disabilities
3. Focus on inactive islanders
4. Build a safe, sustainable, and inclusive sporting community
You can read our 2023 Business Plan, below: